We are forever grateful for the support of our diversely talented and immensely dedicated advisory committee. There guidance and passion for our mission makes it possible for us to do the work we do.
Jeffrey has over 20 years of experience in the nonprofit sector. Primarily focused on the education and resolution of environmental issues, he has created innovative fundraising and advocacy campaigns for national and international organizations, including, National Sierra Club, National Parks Conservation Association and the Rainforest Alliance. Most recently, he was Principal of JTG Fundraising and Co-founded Storyfund. Gannon also currently serves on the Steering Committee of Critical Mass, an advocacy association for adolescents and young adults with cancer and on the Board of Directors of the Hudson Opera House, a multi-arts performance Center.
John DeCock is a lifelong environmental activist. He spent 27 years working for the Sierra Club and the Sierra Club Foundation. During that time he served as Director of Outings, Deputy Conservation Director and finished his time at the Foundation as Executive Director. He has also served as President and CEO of Clean Water Action. Working to protect communities and generations from the impact of bad public and corporate policy around toxics and other pollutants has always been an important element of his work in the environmental movement. John is currently Executive Director of Verified Voting, the nation's leading advocacy organization for secure, private, accurate and auditable elections.
Michael Green is Chief Executive Officer of the Center for Environmental Health (CEH) which he founded in 1996. As CEO of CEH, he has been a leader in national efforts to protect children and families from lead and other toxic chemicals in consumer products and from illnesses related to pollution in our air, water and food. CEH is a leading advocate for comprehensive chemical policy, and has been hired by both corporations and government agencies to design policies that will protect the public from exposure to toxic chemicals.
Prior to founding CEH, Mr. Green designed a solid waste management plan for the Tibetan refugee community in Dharamsala, India, and cared for the sick at Mother Teresa's mission in Calcutta. He later worked for the Unrepresented Nations and Peoples Organization in The Hague. He is a recipient of The California Wellness Foundation's Leadership Award, and has also been awarded the prestigious Compassion in Action Award for his work protecting children from lead by the Dalai Lama Foundation.
Adina Grigore is founder and CEO of the all-natural, organic skincare line S.W. Basics, and author of the best-selling book Skin Cleanse. She's worked in the wellness industry since 2007 as a private holistic nutritionist and personal trainer. She started S.W. Basics to provide products that are gentle for even the most sensitive skin thanks to their minimalist formulas and whole, high-potency ingredients. It's an approach that has earned Adina and S.W. Basics the praise of celebrities like Gwyneth Paltrow, Lena Dunham, Sophia Bush, and Hayley Williams of the band Paramore; as well as features in Vogue, O Magazine, W, Martha Stewart Living, InStyle, Us Weekly, People StyleWatch, Goop, Daily Candy, and many more. The line is currently available on swbasics.com as well as in Target, Urban Outfitters, and independent retailers nationwide.
Anisha Khanna, CEO of Sonäge Skincare, has a passion for creating the cleanest, most effective products, to help skincare professionals create results without doing harm. Since taking the helm of the 20-year old European skin care company, her goal has been to promote the "New Natural," while retaining the quality, efficacy and beauty of the original line. In addition to spearheading the verification of the Sonäge products by the EWG, Khanna is leading an effort in collaboration with Non-Toxic Revolution to educate estheticians and consumers about toxic ingredients to encourage a nationwide beauty detox.
Alexis Krauss is a singer, songwriter and front-woman of the band, Sleigh Bells. She is co-founder of Beauty Lies Truth, a website dedicated to educating consumers about the ingredients in personal care products and promoting sustainable and non-toxic skincare. Alexis studied International Studies at Marymount Manhattan College, and then received New York State certificates for elementary and bilingual education at Pace University. After completing Teach for America, and meeting her bandmate Derek Miller, she began her career as a full-time musician. She is now using her public platform to transform the beauty industry. Sleigh Bells are currently touring their fourth record which was released in November 2016.
Saskia started working for Ecology in 2013 as a Green Chemistry Scientist where her main focus has been to help establish a technically strong and vibrant green chemistry program in Washington State. She is also serving as the Project Lead for the Advancing Green Chemistry Education Project as part of the Green Chemistry in Commerce Council and the Washington state member for the Toxics in Packaging Clearinghouse. Previously, after working at Madis Botanicals and the U.S. Naval Research Laboratory, Saskia worked as the research organic chemist at East Bay Municipal Utility District. There she researched and analyzed regulated and unregulated contaminants in drinking water, wastewater and San Francisco Bay sediments and served on the Emerging Contaminant Workgroup for the Regional Monitoring Program for Water Quality in the San Francisco Estuary. She also worked at Green River Community College where she developed and implemented ways to incorporate the principles of green chemistry into the chemistry department. Saskia has a B.A. in Chemistry from Vassar College and a M.S in Agricultural and Environmental Chemistry from the University of California, Davis.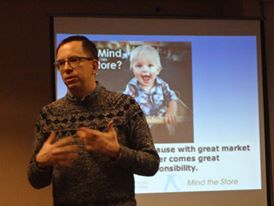 Mike Schade is the Mind the Store Campaign Director for Safer Chemicals, Healthy Families which has been working with and engaging the nation's leading retailers on creating comprehensive chemicals policies. For the previous nine years, Mike was the Markets Campaign Coordinator with the Center for Health, Environment & Justice (CHEJ), a national environmental health organization where he led national campaigns to phase out PVC plastic, phthalates, bisphenol A (BPA) and dioxin. Prior to CHEJ, he was the Director of the Buffalo office of Citizens' Environmental Coalition, a NY statewide environmental organization. He received a BS in Environmental Studies from the University at Buffalo. Mike lives in Brooklyn, NY and locally serves on the Newtown Creek Community Advisory Group (CAG) Superfund site steering committee and Board of Directors of Neighbors Allied for Good Growth.